About Bridon Irish Draughts LLC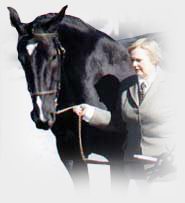 Bridon Irish Draughts, LLC is owned and operated by Brianne Sells and Brandy and Nick Greenwell. Their interest in Irish Horses began in 1994 when Brianne was looking for a new foxhunter and stumbled upon the "Irish-bred" mare, Mary Margaret O'Brien. It wasn't long before our entire equine program focused on the Irish Draught Horse.
In the beginning…
Going back to the start of our passion for horses. Brianne's father, Bryan Gordon, Jr., owned a locally successful Throughoghbred racing operation called "Shenandoah Stables" located on his farm in Nearsville, VA. Brianne got her first pony when she was 5 years old- an unbroken two year old she named "Blacky". She and the race trainer broke Blacky and there was no turning back for Brianne's passion with horses. As a young adult, Brianne showed successfully and gave private lessons as well as group lessons on the string of horses she had collected. By age 15 she had purchased a TB stallion and started a breeding operation at Shenandoah Stables. Brianne attended Mary Washington College during which time she became fast friends with Hazlewild founder Aunt Sissy, with whom she boarded her horses. When she married in 1969 she had 21 horses, many of which were donated to the riding and breeding program at Hazlewild Farm in Fredericksburg, VA in effort to downsize. Though she downsized to about 6 horses after marriage, she continued to ride, teach, foxhunt, ride endurance and breed. Then another kind of breeding began…
Brandy was born in 1975. The story goes that Brianne fox hunted while pregnant with Brandy until she couldn't get the coat buttoned over her bump. She continued to ride up until about 6 weeks before her due date and was back in the saddle with her newborn 4 weeks later. Brandy was in a barn and around horses literally from birth and was taught everything her mother knew about horses. She was in her first show at age 2 and continued showing successfully in hunters until her large pony got hit by lightning in 1988. After that there was a brief hiatus in her horse career, but the passion was rekindled after she took a ride on her mom's new mare, Mary Margaret O'Brien.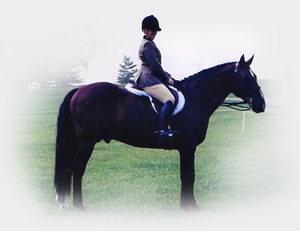 The first trip to Ireland was in 1997 when Flagmount Belle, Graceland Pride and Knockconan were purchased. Brianne is a pedigree buff and had researched the pedigrees of every two year old and three year old of those years. She also wrote out all their pedigrees to the four foundation sires.
Over the years, Brianne and Brandy bred a few Warmbloods, ran horse shows at Oak Hill Farm, fox hunted regularly, judged at horse shows and many, many other equine related activities to improve their business and knowledge with horses.
Since the first trip to Ireland in 1997, Brianne and Brandy have been back at least twice a year, every year since to research Irish Draught pedigrees, study breeding and performance trends, and visit as many farms and influential stallions as possible.
The Bridon Irish Draught team became complete when Brandy married Nick in 2010. He brings his incredible Equine Science and Veterinary background along with show experience and love of foxhunting.
In 2016, Bridon Irish Draughts left Oak Hill Farm after 30 years and moved to Eglinton, Middleburg, Virginia. In 2019, Nick and Brandy had twins, Leslie and Ashley who will carry on the love of horses.
The perfect team…
Honorable mentions: Lud his unsolicited opinion and farm maintenence expertise.